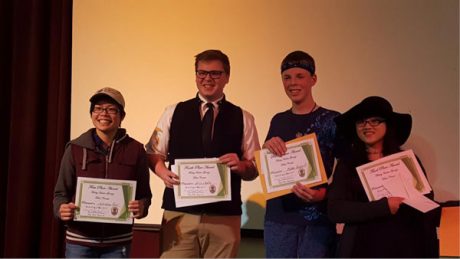 Friday Harbor Grange #225 and Community Treasures sponsored the Grange Spring Talent Contest on Thursday, April 6, 2017 at the FH Middle School Commons.
There were 10 entries and three awesome judges: Laura Concord, Julie Hanks, and Bobby Ryan. Master of Ceremonies was Dorian Oliver.
The evening was joyful, positive, and a cheerful audience applauded at the effort, enthusiasm, and sometimes nerve induced performances. Participants were scored with a rubric which included: stage presence, appropriateness of dress, preparation and skill, suitability of number, and audience appeal.
First Place and $250.00 went to Adriena Pew for a vocal performance. Second Place and $100.00 went to Blake Budwill for an instrumental performance. Third place and $50.00 went to Aida Must for a vocal/instrumental piece. Fourth place and $25.00 went to Eric Sable for an instrumental performance.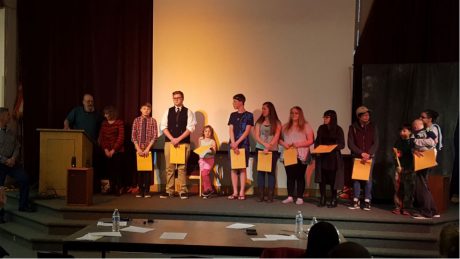 All of these winners will have the opportunity to enter the Grange's NW Regional Talent Contest in Lynnwood later this month. All participants received CT gift cards and participation certificates. The talent was diverse from singing to a magic act, dancing, and 5 gallon bucket drumming.
Deborah Strasser was the first participant, and she dedicated an original song that she sang while she played the music to the Sullivan and Ashcraft families.