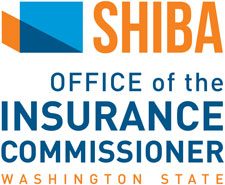 Thursday, April 6, Todd Dixon and Stella Ng from the Washington Insurance Commissioner's Office met with twelve volunteer insurance counselors from San Juan and Skagit counties to review SHIBA (Statewide Health Insurance Benefits Advisors) program success and present service awards. Island Hospital, the area program contractor, hosted the breakfast meeting as part of the regular monthly update training session for volunteers.
The six San Juan County based volunteers had 350 personal counseling contacts during 2016, invested 602 volunteer hours and held 8 outreach classes. The program objectives here as throughout the state are:
Review individual Medicare Enrollment timing, and options
Contact those in rural locations and with limited English
Serve the 7% of our state population who are disabled and under 65
Serve those earning under 150% of the Federal Poverty Level
Provide local community outreach education opportunities
Detect and report cases of Medicare fraud or abuse
Washington was rated 13th last year of the 54 similar programs in every state last year. Washington counselors reported 88,000 contacts of the 3.3 million documented nationwide. Like the rest of America, Washington population is aging. Our county, with the oldest average age in Washington, now reports 29% over 65 versus 14% for the entire state. While SHIBA began near us in Skagit County about 30 years ago the concept has been adopted nationally as SHIP (Statewide Health Insurance Program.)
Free access to your own local, unbiased consultant is available by calling one number 800.562.6900.
For more details click on the following link: (PDF)
https://www.insurance.wa.gov/volunteers-only/documents/wa-state-shiba-profile.pdf
Story by Curt VanHyning